Trade Credit Insurance Tutors
The STECIS tutors, trainers and keynote speakers are industry experts with extensive international experience in their field of expertise.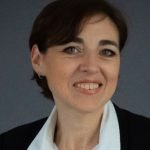 Country : France
Nationality : French
E-mail address: sandrine.sarikey@stecis.org
Tutor for: Trade Credit Foundation Course
Employer: Coface
Current position:
Head of Product Development: since 2017 Sandrine is the managing the team of 6 product managers in charge of the development and
management of the credit insurance and services products sold by Coface
group worldwide.
Previous positions:
Credit Insurance International Product Manager From 2012 To 2017
International Affairs Expert From 2010 To 2012
Customer Relationship Manager From 2006 To 2010
Credit Insurance Claims Officer From 1996 To 2006
Experience & expertise:
Trainer for Coface Products,
Member of the Credit Insurance committee at ICISA,
Project management expertise.